Meat & Green Bean Casserole
Parsley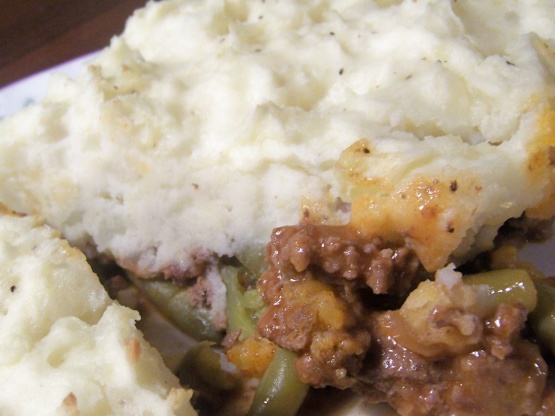 Similar to the Potato Puff Casserole my mom makes, but this is made with homemade mashed potatoes and has a tomato soup base. From a friend (she made it for us after I came home with child #3). So comforting!

It's a nice one-dish meal; similar to shephard's/cottage pie. Very good, but just needed an extra flavor boost. I added worcestershire and garlic to the meat mixture, and some butter and sour cream to the potato mixture. Since 5 "medium" potatoes is kind of subjective, I had lots......so my "small piles" of mashed potatoes basically covered the top.....but not a problem for us potato lovers! ;) I'll make this nice winter meal again. Thanx for sharing!
Preheat oven to 350°F
In large skillet, saute onions in a little oil.
Add ground beef and salt and pepper to taste and brown the beef.
Add drained beans and tomato soup.
Pour into 9x13 baking dish.
While beef is browning, boil and mash the potatoes with milk, egg, salt & pepper.
Make small piles on top of meat mixture.
Bake uncovered for 30 minutes.