Meat Eating Husbands Love This Shepherds Pie!
kimmouse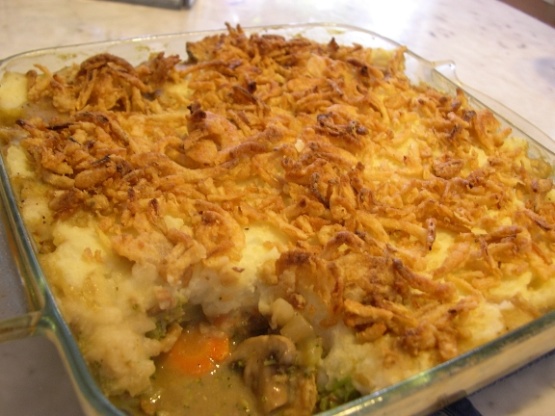 A hearty meatless, dairy free shepherds pie! I got a version of this recipe from my friend Becky. I've altered it a bit to my own tastes. Her meat eating husband loves it so I figured mine will too. Made it last night and got many compliments from my husband!

Top Review by Kamark
This is pretty good. It's tasty, healthy, and fairly easy to throw together. I debated about whether to add other spices besides salt and pepper, but decided to follow the recipe, and it definitely turned out nicely flavored. I didn't have any French-fried onions, so I threw on dried minced onions.They and the nutritional yeast were very good together!
Mash cooked potatoes with as much soy milk as you need and lots of vegan buttery spread to make them nice and creamy.
Add some salt and pepper and a sprinkle of garlic powder.
Heat the oil in a large pan and saute the garlic and onion over medium heat until soft and translucent.
Add the broccoli, carrots, mushrooms and celery and cook until veggies start to wilt.
Add the broth and soy milk along with the cornstarch and flour.
Let the mixture come to a boil, stirring frequently.
Sauce will thicken up a bit.
Season with salt and pepper if you need to.
When all the vegetables are cooked, remove from heat.
Spray a 8"x8" baking dish with nonstick oil spray and spoon the vegetable mixture onto the bottom.
Cover with the potatoes and smooth them down.
Sprinkle the top with nutritional yeast and French fried onions.
Heat in oven for 10 minutes or so until top is slightly firm and onions are browned.
Serve with garlic toast or fresh bread. Enjoy!
Another way to prepare this is to spread half the potatoes on the bottom of the dish, add the veggies on top, then spread the remaining potatoes on top of the veggies.
Either way it is delicious!