PaulaG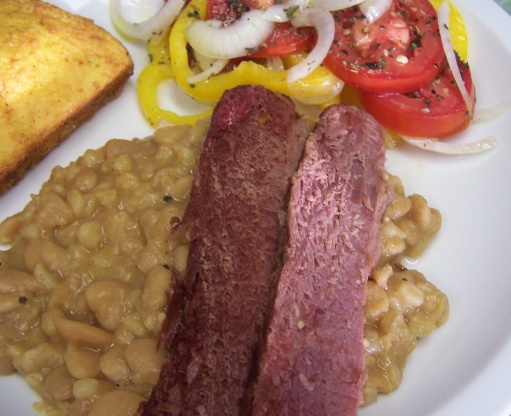 Religious Jewish people are not permitted to cook on the Sabbath. However, dishes prepared in advance may be kept hot in a previously lit oven. In Central Europe, one of the favourite Sabbath dishes was Cholent (primarily a bean dish) because its flavour was not impaired by long, slow cooking; if anything, it was improved. The good houswives would prepare their Cholent on Friday afternoon and place it in the local baker's ovens; the fires were banked, but the ovens retained their intense heat over the Sabbath. It would cook slowly overnight and after schul (synogogue) services were finished, it would be a delicious hot dish for a hungry family. Cholent may be served as a main course or as a side dish, particularly with roast meats. Its consistency when done is quite thick, without liquid, but not quite dry. In a general sort of way, it might be said to resemble old fashioned Boston Baked Beans, although it isn't quite so sweet. This Cholent recipe includes meat, a modern refinement of a dish once composed exclusively of beans, simply because many Jewish families could not afford the meat. This Cholent recipe comes to you from The Art of Jewish Cooking by Jennie Grossinger.

I cooked this in my beloved 7qt. cast iron Dutch oven at 300F for 6 hours. I used frozen/defrosted lima beans. The barley & beans made what I called 'barley & bean pudding' when explaining to the kids what I was feeding them. 1 gobbled it up(5yo) & the other(8yo) wouldn't touch it. *sigh* I thought it was delicious. The meat was a little dry - ??? But very tender. This will reappear since this year will be the year of low maintenance meals!! Thanks, Toolie.
Submerge beans in water and soak overnight.
Drain well.
Use a heavy saucepan or Dutch oven and brown the meat and onions in the fat.
Sprinkle with salt, pepper and ginger.
Add the beans and barley.
Sprinkle with the flour and paprika.
Add enough boiling water to cover one inch above the mixture; Cover tightly.
Cholent may be baked for 24 hours in an oven 250F, or, for quicker cooking, bake in a 350F oven for 4 to 5 hours.
Slice the meat and serve with the barley and beans.