Meat and Vegetable Pot Pie / Pies
Derf2440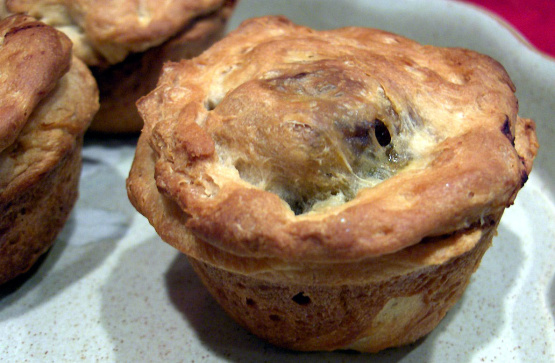 These scrumptious pies will not last! I usually make the filling the day before to give it the time needed to both cook and to cool down. With the filling ready made, these are quickly assembled and baked.

the filling in these pot pies is exceptional, delicious!We enjoyed them very much and will make them again. Just not too sure of the biscuit part, it tasted great but the tops and bottoms didn't stick together. I think the next time I make them I will make some pastry to put the filling into. The only change I made was to thicken the filling with cornstarch rather than flour. I used beef but would like to try them with lamb sometime. Thanks for posting.
Heat oil and brown meat.
Add onions and sauté until tender.
Season to taste and add bay leaf.
Add stock and bring to the boil.
Cover and simmer for 1-½ hours until meat is tender.
Add vegetables, tomato paste and sugar and bring to the boil once more.
Simmer until vegetables are tender.
Thicken with cake flour and water paste.
Leave to cool.
Tear biscuits in half and stretch slightly to fit into muffin pan.
Fill with filling and seal edges with fingers.
Bake at 180C for 20 minutes until pastry is cooked.