Kree6528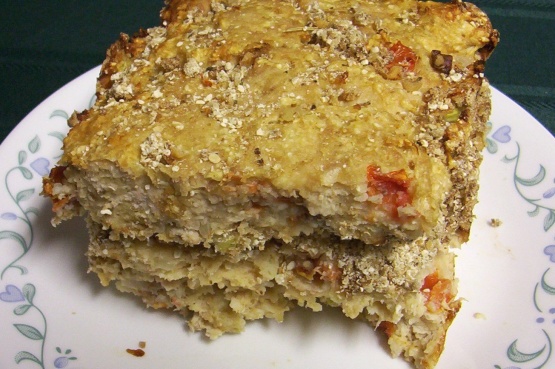 A recipe that is an invitation to play! One glance at these ingredients immediately suggests a loaf with a distinctly "vegetarian" slant, but interestingly (for an otherwise "vegetarian" recipe), this recipe also contains meat. The recipe specifies "steak", but obviously you could make it with any ground or minced meat. You can also vary the ratio between the meat and the nuts, vary the chopped vegetable you include and experiment with different nuts, depending on your preferences. Except for listing "minced steak" as "minced meat", and having to replace the reference to "vegetable salt" with an ingredient which conformed to Recipezaar's recognised ingredients (I decided herb-seasoned salt was most compatible with the spirit of the other ingredients), I've posted this recipe with the ingredients and directions exactly as I found them in Dorothy Hall's 'The Natural Health Cookbook'. Take up the invitation – and enjoy playing!

This was a nice change from the usual meatloaf. I made it using ground turkey and John Messmore's Herb Seasoning / Salt Substitute Recipe #103336 plus a dash of salt for the "herb-seasoned salt". I really enjoyed biting into the nutty middle. My only problem was that it turned out quite crumbly, and the meat mixture separated from the middle when I tried to remove it from the loaf pan. There was also way too much to fit into a 9x5-inch loaf pan, so I was forced to use leave out some of the filling. I would definitely make this again and reduce the amount of meat slightly, making sure to spread it all the way around the nutty center so it doesn't separate. Thanks for a new recipe to play around with. :)
Mix steak, tomato, 1 onion, 1 cup breadcrumbs, stock or soy milk and beaten eggs.
Mix thoroughly.
Place meat mixture on bottom of a greased loaf dish.
Mix together remaining ingredients and place on top of meat mixture.
Cover with remaining meat mixture.
Bake in moderate oven for 1 - 1½ hours.
Cool for five minutes before removing from the dish.