Meat and Macaroni Pie - Pastitsio
IngridH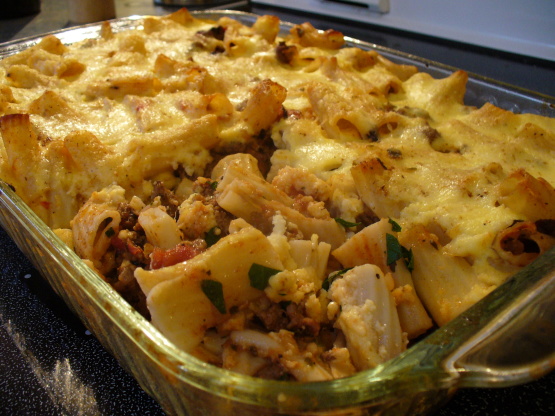 Comfort food.I posted this for the tour 2005 made it tonight and made some adjustments.

Very good! I used 1 pound of lamb and 1/2 pound of beef. I don't typically like layering the sauce and meat in this type of dish, so I combined the meat sauce with the pasta, then topped with the white sauce. I used kalamata olives, fresh parsley from the garden, and added some nutmeg to the white sauce. I was a bit skeptical of making the sauce in the microwave, but was pleasantly surprised by the result! I would definitely make this again. Made for ZWT6.
Toss pasta with 1 tablespoon oil and garlic powder.
In a large frying pan, sauté the onion and garlic in a 1 tablespoon of oil. Add the meat and brown.
Add the tomatoes ,tomato sauce, salt, pepper, oregano and parsley. Simmer until cooked through and the mixture has the consistency of a sauce.
Using a greased oven proof dish, layer the cooked spaghetti and the meat mixture in the dish.
Heat the butter, flour in microwave oven to make a paste about 30 seconds.
Whisk eggs into milk. Add to roux and whisk to mix together. Micro 2 minutes. Whisk and micro 2 more minutes. Add salt and pepper to taste.
Stir in grated cheddar cheese. Pour over the casserole. Sprinkle the parmesan cheese on top.
Bake for 45 minutes at 350°F.