Meat and Cheese Stromboli
Prep 15 mins
Cook 30 mins

Another one from Taste of Home.
Directions
On a lightly floured board, roll dough into a 30 inch x 8 inch rectangle; cut into two 16 inch x 8 inch pieces.
On the long side of each piece, layer pepperoni, cheeses, spaghetti sauce, parsley and oregano.
Fold over dough and pinch to seal.
combine egg and water; brush over edges and ends of dough.
With a sharp knife, cut five small steam vents in the top of each roll.
Place on greased baking sheets.
Sprinkle with Parmesan if desired.
Bake at 350 for 27 to 30 minutes or until golden brown.
Slice and serve warm.
Baked stromboli may be frozen for up to 1 month.
Most Helpful
Made it twice and added some new fillings the second time. Just a great recipe!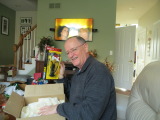 Very tasty and quite easy. I made my own dough in the bread machine and decided to double the recipe so that I could make individual stromboli to suit each person's tastes. The first one I rolled too thin and you could see the filling through it so then I realized I needed to roll them thicker. They looked really good and everyone enjoyed them. I can see many possibilities for the fillings. I served these with warmed pizza sauce on the side for dipping. Thx for sharing Sherribabi!!