Mean's Roasted Parsnips & Carrots
Kathy228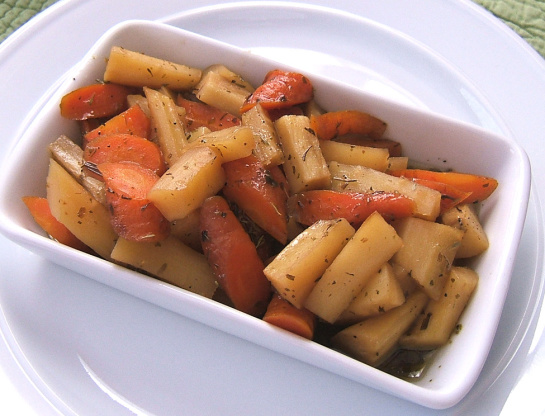 Great little appetizer or side dish.. an adopted recipe that I inherited from Mean Chef who not longer frequents this site. Don't gasp but I'm certain that I have manged to *improve* a Mean Chef recipe ! DO try this *without the sherry wine vinegar* and DO substitute medium Sherry in it's place and up the rosemary and thyme considerably (I also added the rosemary and thyme to the sherry mix and cooked everything together) DH eats carrots if he has to but avoids them if possible, ...until I changed this to Sherry and more herbs and he LOVES this now... I have also added sweet potatoes to the carrots and parsnip and it's a marriage made in heaven. DH was actually pleased to see more carrots on the shopping list for the first time in his life! Try it, this is a delight ! Enjoy!!! ZWT REGION: New Zealand.

Great way to do parsnips!!! This recipe provides a wonderful mix of flavours and the timing is just right. I had to substitute regular white wine vinegar for the sherry vinegar because it's what I had on hand. Everyone at Christmas dinner raved about this dish.
Peel parsnips and carrots.
Cut the parsnips into 2" pieces.
Cut the carrots in half and slice into 1" pieces.
The carrots need to be smaller because they take longer to cook.
Melt the butter in a shallow baking dish.
Stir in the brown sugar and sherry vinegar.
Add parsnips and carrots.
Coat the vegetables with the liquid.
Bake at 375 F (109 C)degrees for 20 minutes.
Remove from oven.
Add rosemary and thyme.
Season with salt and pepper.
Bake for another 10 minutes until the vegetables are fork tender.
Serves 4.