breezermom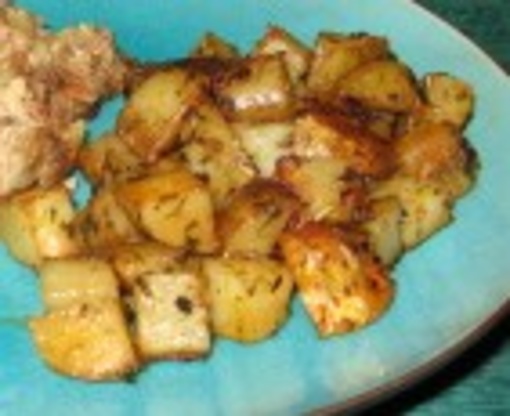 A spicy full flavored version of roasted baby potatoes. I adopted this from the Recipezaar account and I am the very happy new owner of such a winner :) Now that I have made it several times myself, I totally agree with reviewers recomendations to add carrots to this too. I have also added cubed sweet potato, but be aware that they will be fairly soft, rather than crunchy like the potatoes. A firm favourite in our home from now on ! Enjoy :) Oven time depends on how much you are making.. mine took 45 minutes for the potatoes to be nice and crunchy. It serves 4 at our place... 6 would be fighting each other for the biggest serving LOL.

Top Review by Lorac
I love cooking with fresh herbs, Rosemary thrives in the desert, Thyme survives in partial shade, but parsley has a short life cycle in a hot climate. I would make this again even if I had to purchase the herbs. I used red skin potatoes and had to substitute sweet paprika. Basting with the garlic and herb butter-oil resulted in beautifully browned potatoes with the flavors of Rosemary, Thyme, and garlic enhanced by a bit of heat from the red pepper. Thanks Mean Chef!
Preheat oven to 375.
In large pan, melt butter in oil over moderate heat.
Add garlic, parsley, thyme, rosemary, paprika and cayenne.
Add potatoes and toss well.
Roast, basting until potatoes are tender.
Season.