Mean Chocolate Chip Cookies
Almond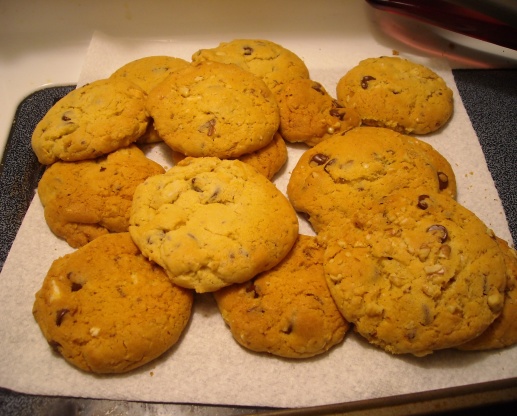 These cookies are a cake-like version of chocolate chips and are very full of chips and nuts. They are excellent. This isn't originally my recipe, I adopted it. If you need conversions, here they are: ( Thank you Treble :) ) For anyone who needs conversions, here they are: 1 1/4 cup butter, 2/3 cup each brown and white sugars, 1 1/2 tsp.vanilla, 4 cups flour, 1 1/2 tsp. soda, 3/4 tsp. salt, 2 (12 oz) packages chocolate chips, and just under 1 cup walnuts.

Delicious cookie, I used pecans in place of walnuts (didnt have any) I plan to make these again today and freeze them. Full of chocolate and great cake like texture. Thanks for posting.
Cream butter and both sugars.
Add eggs a few at a time mixing after each addition.
Add vanilla, scrape down and beat until smooth.
Sift dry ingredients together, add to mixer, mix until almost totally incorporated.
Add chips and nuts, mix until well combined.
I use a large ice cream scoop to portion.
They freeze well unbaked.
They keep a long time.
To bake (thaw if frozen), press down to flatten, bake at 350° until done.
Should be well browned.
Cooking time will vary considerably depending on cookie size.