Mean Chef's Yucatan-Style Chicken, Lime, and Orzo Soup
jrusk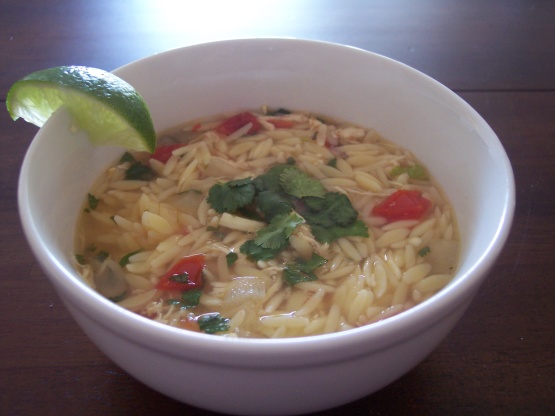 I adopted this recipe from Mean Chef, who described it as "quick easy and delicious." I agree--it's simple to make, very yummy, and reasonably filling. It makes a good, light meal.

Very good flavor. Enjoyed it very much. I did have to make a few changes for my taste, but not many and it is because I like very spicy. First, I did saute the onion, peppers, garlic along with some cumin and adobo seasoning (I added some extra seasoning), then added the broth, rotel (instead of a tomato), chicken (roasted chicken I had on hand) and orzo to heat up and cook the orzo. To finish, I added the lime juice and cilantro. I like to add citrus right at the end if possible. To serve it, I topped with some fresh scallionsI It is really a great recipe as is. I just like a bit more seasoning for me personally, but it was really good as is. That was just my personal taste. It was easy and delish. I made it this am ... I wake up very early. I look forward to enjoying a bowl for lunch. 7am is a bit early for it but definitely tasted it and loved it. Will be making again many times. Thx for a great easy recipe. Kim
Cook orzo in pot of boiling salted water until just tender.
Drain well.
Heat oil in large saucepan over medium heat.
Add onion, garlic, and chiles.
Sauté until onion begins to brown, about 4 minutes.
Add chicken; sauté 1 minute.
Add broth, lime juice, and tomato.
Simmer until chicken is cooked through, about 3 minutes.
Mix in orzo, then chopped cilantro.
Season soup with salt and pepper.
Ladle soup into 4 bowls.
Garnish with cilantro sprigs.