Mean Chef's Sauteed Mushrooms
Sunday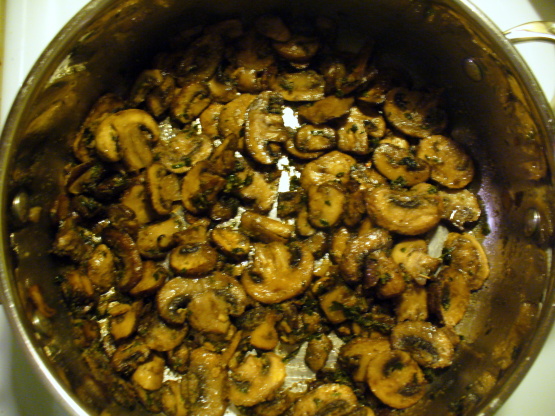 I adopted this recipe from Mean Chef.

Outstanding! I tried these today and ate them all! It's a good thing my husband hates mushrooms :-) The tip on making sure the carmalization occurs is key to these golden beauties. Thanks for pointing this out.
In a large skillet, heat the oil over high heat.
Add the mushrooms.
Do not move the mushrooms until they have caramelized on the bottom.
If you toss them too soon, they will release their liquid and begin to steam.
When the bottoms are caramelized, toss them and continue to cook for about 5 minutes.
Add the butter and continue to cook and toss for 5 minutes, until beautifully browned.
Season with salt and pepper.
Add the garlic.
Saute another 2 minutes, and add the thyme and lemon juice.
Cook to evaporate the liquid.
Add the wine and reduce until the mushrooms are glazed with the sauce.
Toss in the parsley and serve immediately.