Mean Chef's Lemon Sour Cream Muffins
Juju Bee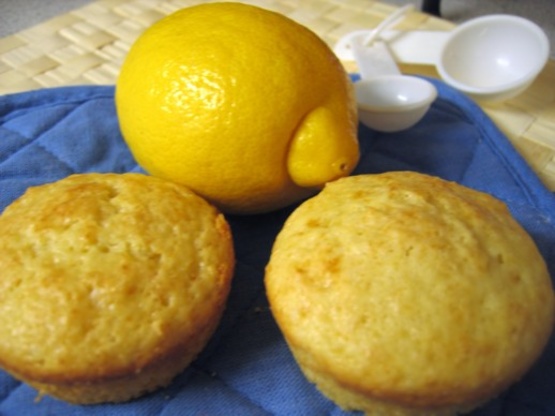 This is an adopted recipe. This recipe makes light, fluffy and soft muffins which are more cake like with a hint of lemon.

These are very good but they are cupcakes and NOT muffins. I won't make them for my kids again because of that, but they are good when cake is what you want. I added 1 tbsps of poppy seeds, and used whole wheat for a 1/4 of the flour, and pastry flour for another 1/4 to make things a bit 'healthier'. Didn't notice the whole wheat at all.
Preheat oven to 350°.
Grease muffin tins.
Melt the butter and let cool.
Thoroughly mix all the dry ingredients in a large bowl.
Whisk together the eggs and sour cream in a smaller bowl.
Stir in the butter, 1/4 cup lemon juice, and zest and juice of lemon.
Make a well in the middle of the dry ingredients.
Add wet ingredients and mix with as few strokes as possible.
Don't overmix.
Spoon batter into muffin tins.
Bake at 350° for 25 minutes.