Annacia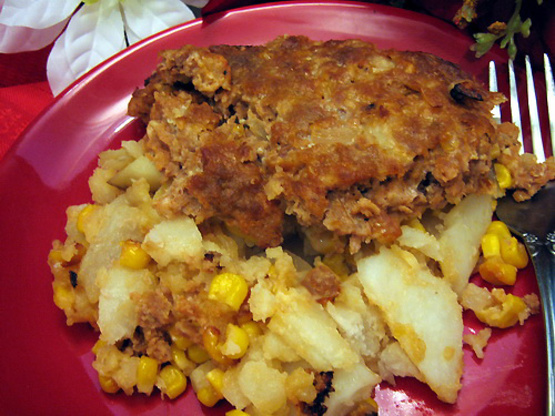 This recipe caught my eye in a recent issue of Family Circle. Round it out with a salad and rolls and you have an easy dinner.

I made this tonight for 2 men. I got a vote of 4 and 4 1/2. When I ask what kept it from being a 5 they both said that the meatloaf was missing "something" but that was all they could come up with, they had no idea what was missing. I think that, most likely, they were thinking that it didn't taste *normal* and that is a cardinal sin around here. When I toss a meatloaf together I always add garlic and Italian herbs. That said, they cleaned their plates and said that they liked the the format of using the layers. I liked that too as there is just the one pan to wash up and it's simple to put together. The one hr timing was perfect. Made for Photo Tag.
Heat oven to 375 degrees.
In large bowl, combine ground beef, cracker crumbs, 1/2 of the onion, 2/3 cup of soup, the egg and half the salt and pepper.
Lightly grease a 9x9-inch baking dish.
Layer the potatoes and remaining onion, salt and pepper in two layers.
Spoon the corn over the potatoes.
Evenly spread the meat loaf mixture over the corn.
Top with the remaining tomato soup.
Cover with foil and bake at 375 degrees for 1 hour or until meat is no longer pink in the middle.
Cool slightly before cutting.