Meal in a Bowl - Noodle Soup - for 1 Double for 2 (Vegetarian)
GaylaJ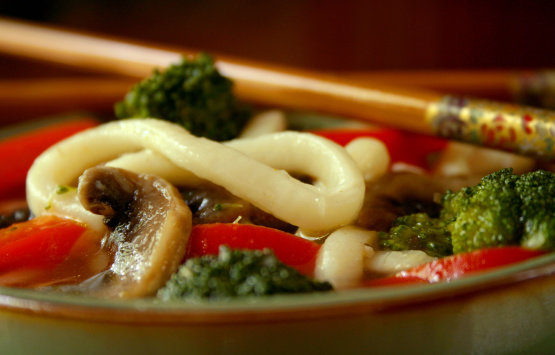 This sounded very good from the local newspaper--have not tried it yet.

I've always found the nutritional facts on this site to be WAY off. Although this soup is simple, it will be high in salt if you use a prepackaged soup base. Search Food.com or Google how to season a soup from scratch. I always buy my udon in plain packs, no soup base and make a curried udon soup.
4.92

ml vegetable oil

4-5

mushrooms, sliced

1

garlic clove, smashed

1

red pepper, deseeded and cut into strips

1

stalk broccoli, broken into florets

212.62

g package udon noodles (Asian or ethnic section of supermarket) or 212.62 g package yakisoba noodles (Asian or ethnic section of supermarket)

295.73

ml boiling water
Heat the oil in a medium pan.
Add the mushroom, garlic, red pepper and broccoli and stir fry until the veggies are beginning to soften, about 4 minutes.
Stir in the contents of the flavouring from the noodle pack and pour over the boiling water.
Add the noodles and cook for 2 minutes until just tender and boiling hot.