Mchicha (East African Spinach
Rita1652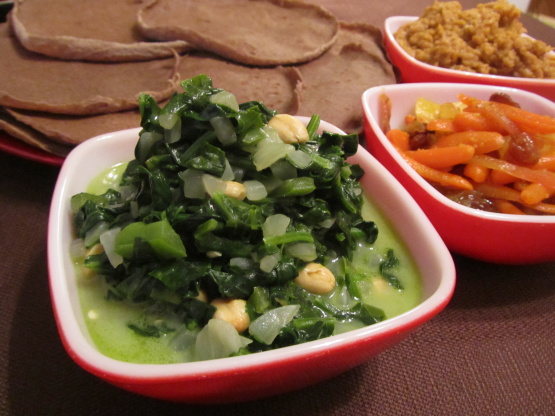 Adapted from Time/Life Foods of the World.

This was one of the sides for our delish Menu #66720. I sauteed the onions and chili in Recipe #455044
for the butter kicking it up a little more. Then added the fresh picked chopped spinach right to the cooked onions. Let it wilt then added the milk and nuts. No salt needed. Scooped it up with Recipe #140763. A nice healthy spicy side. Thanks. Made for ZWT 2011.
Place spinach and salt in a heavy 4-5 quart casserole.
Cover tightly and cook over medium heat until spinach is tender, about 10 minutes.
Drain spinach, squeezing it completely dry a handful at a time.
Chop coarsely and set aside.
Melt butter in a large, heavy skillet over moderate heat.
Add onions and chilies and cook, stirring frequently, until soft but not brown, about 5 minutes.
Stir in coconut milk and peanuts and bring to a simmer over moderate heat.
Reduce heat to its lowest point.
Cook uncovered, stirring frequently, 2-3 minutes.
Add spinach and cook until heated through, 4-5 minutes more.