McDonald's Egg McMuffin / Sausage McMuffin With Egg Copycat Todd
ChefDLH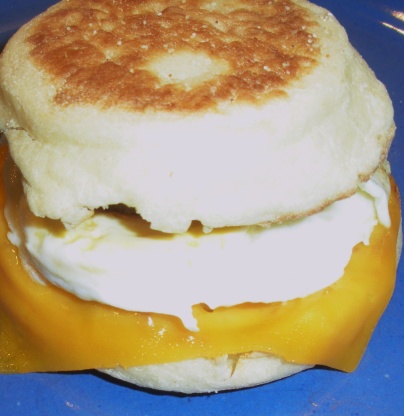 I love Todd Wilbur's copycat recipes because they taste like the original and they are tasty even if you haven't been to that restaurant. This recipe is no exception. I control the ingredients, fat and calories and make it at home with the taste the family loves. In this recipe you can us a tuna can, egg ring, egg pan or metal cookie cutter to get the egg just right. I use the Joie de Vivre 50162 from Amazon to make it perfect every time. From celeb chef Todd WIlbur's books of Top Secret Recipes. ChefDLH
Split the English muffin and brown each face in a hot pan. Set aside. Keep the pan on medium heat.
In a frying pan of boiling water, cook the Canadian bacon for 10 minutes.
Grease the inside of the can with shortening or coat with a nonstick spray. ( to make the can to make the egg shape cut both ends of a pineapple or tuna can and grease or use an option above).
Place the greased can in the hot pan over medium heat and crack the egg into the center.
Break the yolk. Lightly salt the egg.
When the surface of the egg begins to firm, cut around the inside of the can with a butter knife to free the edges.
Pull the can off the egg; turn the egg over and cook for 1 minute more.
Build the sandwich in the follwing stacking order from the bottom up:.
bottom English muffin.
American cheese.
egg.
Canadian bacon.
top English muffin.
THIS IS THE KEY -Microwave for 15 to 20 seconds on high for uniform heating, if desired.
Tidbits:.
the english muffin makes it taste great too.
sub in sausage or other bacon for the canadian if you wish.
For a closer clone, real American cheese slices not processed ones.