Mcclellanville Lump Crab Cakes
Sageca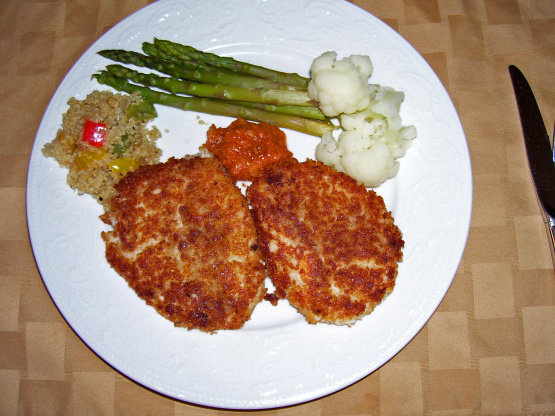 These spicy crab cakes are the perfect party snack. They're also terrific as a main course. Recipe adapted from Louis's Restaurant & Bar, Charleston, SC. COOKS NOTE: Please, do not use Miracle Whip, eek!!! *NOTE* This recipe was adopted in the whirl wind adoption in September of 2006. I have nt had the opportunity to make this recipe, but as soon as I do I will update!
Whisk the mayonnaise and egg white together in a small bowl until well blended. Add the cayenne pepper, seafood seasoning, dry mustard, lemon juice, and cracker meal and whisk until well blended. Carefully fold in the crabmeat.
Divide the mixture into 6 equal parts of 4 ounces each, (or 12 equal parts of 2 ounces each), and gently pat them into the round shapes of crab cakes.
Gently coat the cakes with the fresh breadcrumbs. Place them on a platter lined with wax paper, cover with plastic wrap, and refrigerate them for 1 hour or until ready to cook.
When ready to serve, heat the oil and butter in a heavy-bottomed sauté pan over medium-high heat. Sauté the 4 ounce crab cakes for 1 minute and 45 seconds on each side, turning once.
Sauté the 2 ounce crab cakes for 1 minute and 15 seconds on each side, turning once. The crab cakes will be nicely browned on the outside, but still very moist and creamy on the inside.
When cooked, remove the crab cakes from the pan and drain them briefly on paper towels.
Serve immediately or keep warm in a 200° F oven for up to 15 minutes. If the crab cakes stay in the oven longer, they will dry out.
NOTE: Using extra fine cracker meal is the secret to the creamy texture of these cakes.