Mc Donald's Southern Style Chicken Biscuit
Srb719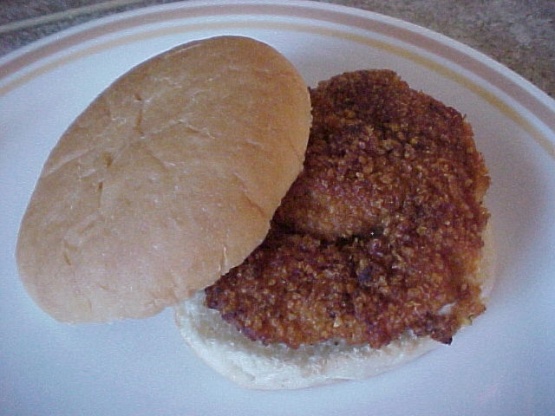 This is my version of the new McDonald's Southern Style Chicken Biscuits that they serve on their breakfast menu

Top Review by Srb719
OMG, this is so much better than the McD's version! I cut the chicken in thirds and pounded them a bit to flatten them. I omitted the msg and used dill. I also didn't have the plain breadcrumbs and used corn flake crumbs and this was truly to die for. The sandwiches were so perfectly seasoned; they didn't need anything else. My whole family devoured these. Finally, a recipe the entire family can agree upon. 10 stars all around. I love recipes that aren't bland and that don't need anything else. This is truly one of them. My family has requested these sandwiches again today! Thank you so much, KseL! Everyone else reading this review, needs to make these tonight. You WON'T be disappointed at all.
Cut each chicken breast horizontally down the center into 2 pieces, so that you have 4 pieces.
Place chicken pieces in a bowl and cover with chicken broth.Refrigerate and let chicken soak in broth for about 2 hours.
In a large bowl mix egg and buttermilk.remove chicken pieces from chicken broth and dip in the egg & milk mixture.
Season chicken with pickling spice or dill, pepper, onion powder, poultry seasoning and monosodium glutamate.
In a medium skillet or saucepan heat oil to 350 degrees.
Coat chicken pieces evenly in breadcrumbs.Place chicken in oil, and fry for about 15- 25 minutes until chicken is well done, turning chicken pieces once in oil.Remove from oil and pat grease off chicken.
Prepare biscuits as directed on box or package that biscuits came inches.
Place one chicken breast in each biscuit, and serve.