Mazurek Topped With Apple
Rita1652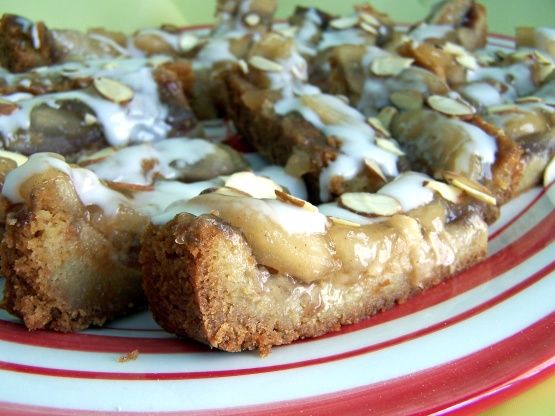 Is a type of shortbread which is served at Easter. When cool can be decorated with powdered sugar glaze and slice almonds. For ease I make it in the food processor but you can make by hand!

I cooked up some apples with tbsps sugar for the pie filling. Unfortunately I didn't have any almonds...they make it look so nice on the picture!! It still tasted lovely though!
Mazurek base:.
Sift together all dry ingredients by pulsing in food processor.
Add chilled butter into flour pulse until crumbly.
Add beaten yolks with cream and add to flour mixture, just till it comes together when squeezed with fingers, but still will be crumbly.
Press dough into pan.
Lay on buttered 8 inch square cake pan, pressing in to evenly cover the base.
Chill for 5 minutes.
Bake for 20 minutes in a preheated 350 degree oven.
Mix apples and Southern Comfort together.
Remove base from oven and cover with apple topping.
Bake 20 minutes longer.
Cool dust with powdered sugar or top with a sugar icing and garnish with sliced toasted almonds.
Cut into 16 finger size servings.