Maya Angelou's Cold Potato Salad
2Bleu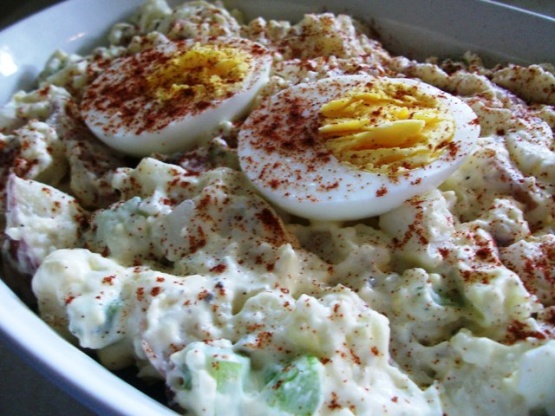 Made on the Today show and in the cookbook Today's Kitchen cookbook! I haven't made this yet, put here for safekeeping. Will make soon though, it looks so good! Cook time is about the time it takes to cook the potatoes.
Every time I make this potato salad, there are NO LEFTOVERS EVER! I am always getting requests to make this and bring to different functions. It is delicious!
Mix potatoes, onion, celery, pickles, relish, and chopped eggs. Season with salt and pepper. Add mayonnaise.
Chill for about 2 hours.
Just before serving, halve the remaining 4 eggs, and place on top of the salad as decoration.
Sprinkle salad with parsley, and serve immediately. Enjoy!