Max & Erma's Chicken Tortilla Soup
Kathy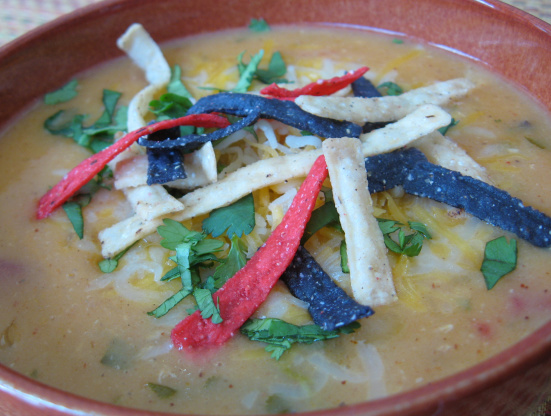 GOOOOOOOD! Nice and spicy. This makes a lot.

Top Review by Jade 3
Not sure that the sodium content can even be close to being right, a can of cream of mushroom soup has 37% of your daily requirement for 4 servings and with 10 cans of high sodium stuff for 15 servings you are going to get at least a days worth in every serving. Heart attack in a bowl. Can't imagine the sodium content in this....think I will pass although I am sure that it is delish.
Add all to large pot. Bring to a boil and simmer 1 hour. Can be topped with:.
flour tortilla chips, cut into strips and fried.
or shredded cheese.
I did not add the cilantro, red chili powder, salt or pepper. (I forgot).
I also used fat free soups where I could.
This was still delicious.