PaulaG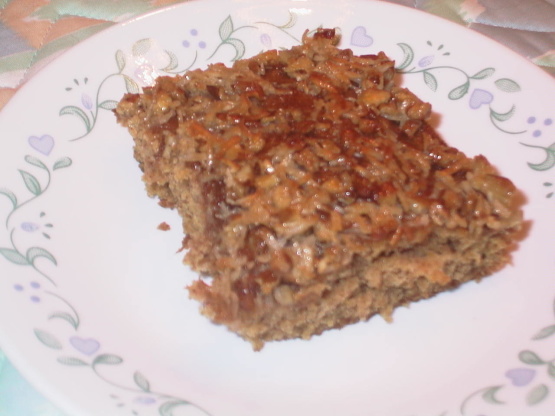 My mother brought this recipe home from her Home Economic class (in the late 50's)and my Maw Maw has been making it ever since. My mom, aunts, cousins and myself all enjoy the recipe now. It's a moist cake with a delicious topping!

This was good, I used walnuts instead of pecans. The topping was so tasty and the cake wasnt too sweet. I will make it again as my husband "don't lose this recipe."
Preheat oven to 350°F.
Pour boiling water over quick oats and let stand for about 15-20 minutes, while you begin mixing up the cake.
In a mixing bowl, combine sugar, brown sugar, shortening, and eggs, mixing well.
Sift together flour, baking soda, cinnamon, and salt; add to sugar mixture.
Add oatmeal and mix well.
Pour batter into a 9X13-inch greased cake pan.
Bake for about 30 minutes, or until cake tests done.
For topping, combine all topping ingredients.
Prick holes in the top of the cake with a toothpick or ice pick.
Spread icing over the top of warm cake.
Place cake under the broiler for just a minute or two until topping starts to brown.
(My oven browns quickly and only takes 1-2 minutes, so watch closely!).