Maureen's Chicken With Wine
ImPat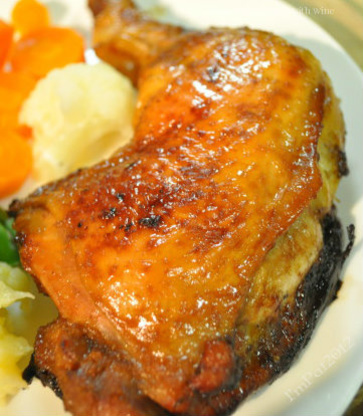 This is a family favorite and a go-to company meal that I've never had anyone not like. There's been lots of family laughs over what the 2 tablespoons of water adds to the dish, but that is the way I got it, so that is the way I'm submitting it. I'm glad my kids will have a place to find it and not have it get lost! A lot of times we double the sauce because it is so good over rice.

I was very pleased with this dish. The only real change I made was to use Chardonnay instead of Rose' as that is what was on hand. I baked the chicken for a little over an hour and basted it a couple times. After removing the chicken to allow it to rest, I placed some sliced mushrooms in the sauce and thickened it just a bit to make a super yummy sauce. This will be making a repeat appearance on our table. (5)
You can marinate this if you like but it is not necessary.
Put the ingredients in a roasting pan and mix. Then drop the chicken in the pan.
Bake 1 ½ hours at 375 degrees. Baste the chicken at least once to get a great color on the skin. If you cook it for 2 hours the meat will fall off the bone.
If you use boneless skinless chicken breasts only cook 45 - 50 minutes.
I serve with green beans and rice.
Enjoy!