Maureen's Chicken Schnitzel-Lite
IngridH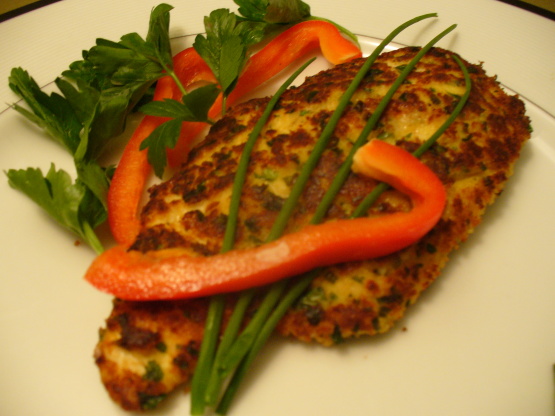 Easier and a lighter version of traditional Schnitzel. Credited to Maureen Clancy in Cooking Light magazine.

Spot-on! DH says it is the best mustard chicken dish he'd ever eaten--and this feeling is shared by myself and DS. Just great. Used Grey Poupon country dijon, and left out the chives and parsley 'cos i didn't have any in the house. Wow. I wish so bad there were leftovers, as I am still wanting just one more bite! Thank you, Caroline Cooks!
Preheat oven to 350 degrees F.
Place chicken breasts between 2 sheets of heavy plastic wrap and pound to 1/2" thickness.
Salt and pepper to taste.
Place flour in shallow dish.
Combine egg and mustard in another shallow dish.
Combine breadcrumbs, cheese, parsley, chives and garlic in another shallow dish and mix to blend.
Dredge each chicken breast in flour; then in egg mixture; then in breadcrumb mixture to coat evenly.
Heat olive oil in heavy ovenproof skillet over MED-HI heat.
Saute chicken on one side until browned about 2 1/2 minutes.
Remove from heat; and turn chicken to place unbrowned side down in skillet.
Place in oven and bake for 10 minutes or until chicken is done and browned on underside.
Serve with lemon wedges.