teresas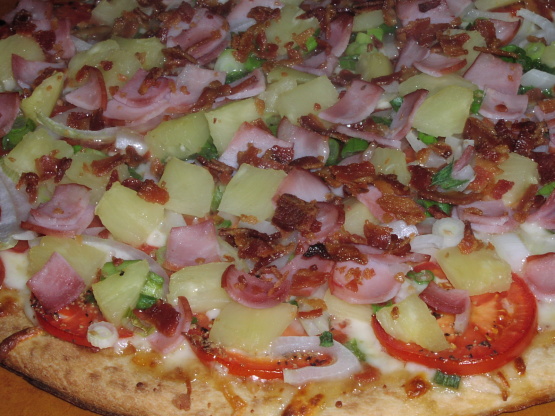 Very easy and delicious, this is my take on the specialty pizza at round table.

OMG! The hubby took one bit and said..."This is it!"...I did make up a Polynesian sauce to use in place of the oil...came real close to the real deal...I made just a few other changes like sliced the green onions, and chopped the Canadian bacon...I used the large (10 oz) thin crust Boboli...worked great...I put the ingredients on the pizza in the order that they are listed on the recipe...the only other change I'll be doing in the future is chop the tomatoes...I kept finding the skin being pulled off while eating it...I guess you could blanch the tomatoes but that's too time consuming...mine took 12 minutes to cook...yum...thanks for posting it...=)
Brush baboli with olive oil (the lack of pizza sauce will be compensated by the sliced tomatoes).
Add the toppings and cook at 450 for 10-15 minutes or until desired "doneness".