dojemi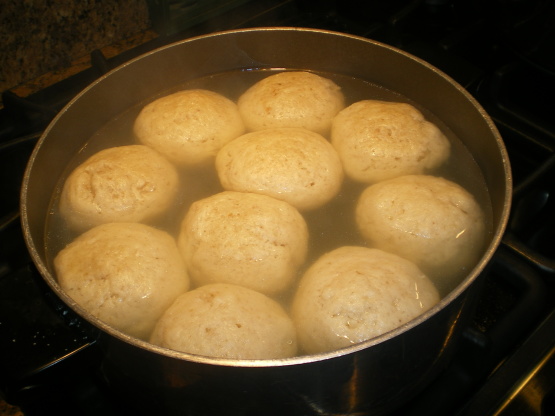 These are exceptionally light and fluffy and can be doubled, tripled, etc. with the same results.

This is a tried and true recipe and deserves all five stars. I added some dried dill weed to mixture. The only thing I do different is that I whip my eggs and oil to a foam first. That ensures the fluffy texture and gives me more ball....14 in all.
Mix together the oil and eggs.
Slowly add the matzo meal.
Add the salt, sugar and baking powder.
Refrigerate for 1/2 hour till firm.
Bring salted water to a rapid boil.
With moistened hands, (gently) make balls (makes exactly 10).
Add balls to water (balls will drop to bottom, but will pop up and float on top while cooking) Cover.
Lower heat to a slow boil.
Cook for 45 minutes to 1 hour.