3 Reviews
Made this (3 weeks prior) for a Christmas party and everyone loved it. A few notes: 1 - after about 2 weeks the strawberries turned completely white, so take that into consideration (we fished ours out), 2 - we felt 7-up was a little too sweet and overpowered the subtle fruitiness. We thought ginger ale was a much better companion but since this will be in your frig for at least a few weeks prior to your party, I say experiment, 3 - our fruit was tooooo saturated to eat. I put a melonball in one of the martini glasses and my guest stated it was like eating fire. Looking back maybe 3 wk was just too long??? It still tasted great, I would make it again and thanks for posting!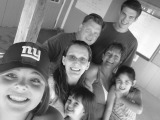 This was SO good and it did the trick SO well.I made this for my B-Day, well,two weeks before FOR my B-Day. I'm not a big drinker. This would taste so good on a hot day. Thanks!

Wow! Was this stuff good. I broke this out for company this last weekend. We made vodka martinis and cosmopolotians, as well as the 7-Up drink. Everyone love it--the fruit added so much flavor. We went through half of it. The rest I'm saving for Cinco de Mayo. Thanks for posting.
Matt's Super Genius Vodka Infusion