Matt's Super Genius Vodka Infusion
Prep 10 mins
Cook 336 hrs

I don't know who Matt is, but this is Awesome! Cooking time is for 2 week chill in the refrigerator.
Directions
Cut all pineapple and fruit so no rind of any kind is left behind.
Wash and rewash the watermelon, pineapple, and strawberries.
Cut the strawberries into halves, the pineapple and watermelon into bigger than a bite-sized pieces.
Layer a"sun tea" jar (preferably with spigot at bottom) with one fruit at a time.
Start with strawberry or watermelon, as they are more fragrant and will gather more taste at the bottom, where the vodka exits the container.
Fill container to top with fruit.
Pour vodka over fruit until covered.
Screw on top and let sit minimum 2 weeks in refrigerator.
To serve, mix 3 parts infusion with one part 7-Up (diet or regular) in a martini glass and serve with small piece of fruit as garnish.
Reviews
Most Helpful
Made this (3 weeks prior) for a Christmas party and everyone loved it. A few notes: 1 - after about 2 weeks the strawberries turned completely white, so take that into consideration (we fished ours out), 2 - we felt 7-up was a little too sweet and overpowered the subtle fruitiness. We thought ginger ale was a much better companion but since this will be in your frig for at least a few weeks prior to your party, I say experiment, 3 - our fruit was tooooo saturated to eat. I put a melonball in one of the martini glasses and my guest stated it was like eating fire. Looking back maybe 3 wk was just too long??? It still tasted great, I would make it again and thanks for posting!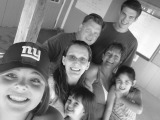 This was SO good and it did the trick SO well.I made this for my B-Day, well,two weeks before FOR my B-Day. I'm not a big drinker. This would taste so good on a hot day. Thanks!

Wow! Was this stuff good. I broke this out for company this last weekend. We made vodka martinis and cosmopolotians, as well as the 7-Up drink. Everyone love it--the fruit added so much flavor. We went through half of it. The rest I'm saving for Cinco de Mayo. Thanks for posting.