Matthew's Black Bean Soup
An old friend found this recipe that I gave to her over 10 years ago. I came up with the recipe to copy a version at a cafe near UNM while I was in college. I made a few updates, but it's just as tasty as I remember. Fresh cilantro is essential for garnish - it add such a nice bright flavor to this hearty, earthy soup. I used to make it every year for Dia de los Muertos (Day of the Dead, November 2nd - the Mexican holiday similar to Halloween).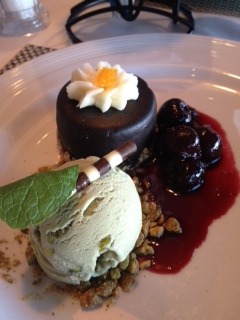 Top Review by Sueski
Delicious and full of flavor! I couldnt figure out how much oregano to put in (included in directions but not in the ingredients list). I added about 1/2 tsp, which seemed to 'work'. Served it with toasted tortillas and cornbread. Toppings: Sour Cream/Cilantro.

It did seem to be a bit on the hot/spicy side, so if you dont like spice, you might want to add some of the heat after tasting.

Gotta go...need another bowlful !! :)
2

tablespoons olive oil

1

medium onion, peeled and chopped

2

carrots, peeled and chopped

1

green bell pepper, seeded and chopped

1

red bell pepper, seeded and chopped

1

jalapeno, seeded and chopped

4

garlic cloves, peeled and minced

6

ounces ham, chopped (or up to 10 oz, from a smoked ham steak)
1⁄4 teaspoon cayenne pepper (more or less to taste)

1

teaspoon ground cumin
1⁄2 teaspoon oregano

1

cup sherry wine (or substitute 1 C water plus 2 t sugar)

1

dash Worcestershire sauce

4

cups chicken stock (or vegetable stock)

3

(15 ounce) cans black beans, drained but not rinsed

1

(11 ounce) can corn, drained

1

(15 ounce) can diced tomatoes (with liquid)

1

(4 ounce) canchopped green chilies

1

bunch fresh cilantro
salt and pepper
Heat the olive oil in a large stock pot. Add the chopped fresh vegetables except the garlic (onion, carrot, green and red bell peppers, and jalapeno). Saute over medium heat until vegetables are softened, about 10 - 12 minutes.
Stir in the garlic, the chopped ham, the cumin and the cayenne pepper and saute an additional 3 - 5 minutes, until garlic is softened and spices are toasted.
Deglaze the pan with the sherry, and add in the black beans (for a thicker soup mash about 1 cup of the beans before adding). Also add the corn, tomato, and green chiles. Stir in the chicken stock, adding extra to cover if necessary. Bring the mixture to a boil and stir in the oregano.
Lower the heat and bring the soup to a low simmer. Simmer the soup, partially covered for about 45 minutes, or until the desired consistency is reached (add more liquid if too much boils away). Stir in one-third to one-half of the cilantro.Taste for seasoning, adding more salt and pepper as desired. Reserve the rest of the cilantro for serving.
Serve with your choice of fixins: fresh chopped cilantro, hot flour tortillas, shredded Colby-jack cheese, chopped onion or scallion, hot sauce, and/or sour cream.