Matcha Green Tea Smoothie or Iced Latte
Brenda.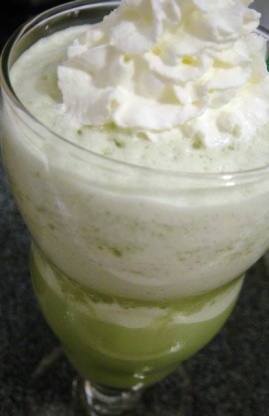 If you've read a newspaper or watched the news recently you've probably heard about all the health benefits of drinking Green Tea. It has tons of antioxidents and helps boost metabolism and helps you burn more fat and thus lose more weight. I enjoy drinking green tea and occasionally I enjoy a Starbucks Green Tea Frappuccino, or a Jamba Juice Matcha Smoothie Blast. This recipe is one I developed to be able to enjoy these smoothies at home. I think it tastes great and is really good for your health too. I hope you enjoy it as much as I do. Please note that this recipe does require premium matcha green tea powder. This is not just regular green tea leaves pulverized. This premium powder can be purchased at Japanese grocers, or online. I happen to purchase mine on that popular online auction site I'm sure you're familiar with. I use the "Usucha" (or thin) matcha green tea powder that comes straight from Kyoto, Japan. Feel free to contact me if you need help finding this tea and I can show you where to purchase it directly. Anyway, I hope you enjoy this as much as I do.

I love this recipe! I was sick of spending $5 on the coffee shop version. I made my own vanilla syrup (site will be listed below.) and purchased the Matcha online. The Matcha I got is great quality and a lot less pricy then others I found. I might leave out the sugar next time though. The vanilla syrup is a lot of sugar already.
1⁄2 teaspoon matcha green tea powder

2

ounces hot water (but not boiling)

3

teaspoons sugar (or artificial sweetener)

4

ounces milk

8

ice cubes

1

teaspoon vanilla-flavored syrup (optional)
Mix 1/2 tsp green tea powder in 2 ounces of hot water in a bowl. Stir with a whisk until completely dissolved.
Stir in 3 teaspoons of sugar or sugar substitute (can adjust to taste).
Add in 4 ounces of milk and stir.
(Optional) Add 1 teaspoon of vanilla syrup, such as Torani or DaVinci brands.
Add ice cubes and blend in a blender until smooth.
Enjoy!
Note: You could also drink this as a Matcha Green Tea Iced Latte by just pouring the mixture over ice instead of blending.