Master Recipe for Pasta Dough
MsPia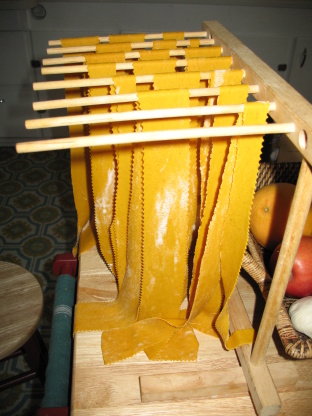 Makes about 1 pound fresh pasta. Cook's Illustrated version.

My husband surprised me tonight with a new pasta attachment for my Kitchen aid and i needed a recipe to try out my new gadget. I followed the recipe exactly as written (but i doubled the batch as my mixer was too big to handle a single batch) . This was a very VERY good and simple recipe. The pasta was light and fluffy and tasty.
Pulse flour in workbowl of a food processor fitted with the metal blade to evenly distribute.
Add eggs; process until dough forms a rough ball.
(about 30 seconds.
If dough resembles small pebbles, add water, ½ teaspoon at a time.
If dough sticks to side of workbowl, add flour, 1 tablespoon at a time, and process until dough forms a rough ball.).
Turn dough ball and small bits out onto a dry work surface.
knead until dough is smooth, 1 to 2 minutes.
Cover with plastic wrap and set aside until you're ready to run through pasta machine.