CoffeeB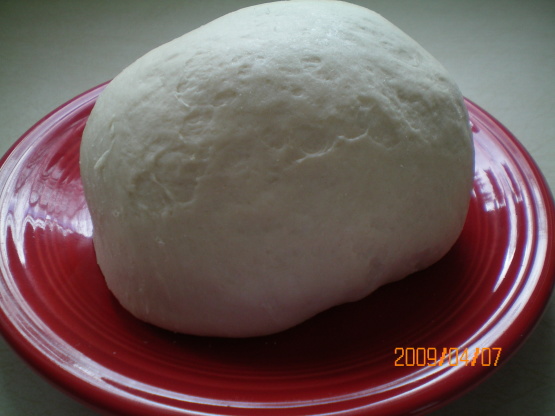 Use for pizza, bread, rolls, etc. Makes one 20 ounce ball of dough. Time does not include rise-time. It is easy to have fresh bread whenever you want it with only five minutes a day of active effort. For multiple loaves, Just mix the dough and let it sit for two hours. No kneading needed! Then shape and bake a loaf, and refrigerate the rest to use over the next couple weeks. Yes, weeks! The Master Recipe (below) makes enough dough for many loaves. When you want fresh-baked crusty bread, take some dough, shape it into a loaf, let it rise for about 20 minutes, then bake. Your house will smell like a bakery, and your family and friends will love you for it.

First of all I have to state right from the get-go that I used my bread machine and cheated a bit. I wanted to have this done in time for supper and so decided to go this route. This dough came together nicely and after the dough cycle was finished I let it rest in the machine for another couple hours to raise. It was perfect. This makes one good size round pizza. Thanks for a keeper Rick and Lynnda:-) Made for PRMR~
In a mixing bowl, dissolve the yeast with the water and sugar. Add the corn oil and blend.
Add the flour and salt and mix thoroughly. If using a stand mixer, mix for 4 minutes at medium speed, until the dough is smooth and pliable. If kneading by hand, knead for 7 to 8 minutes.
Turn the dough out of the bowl and knead by hand for two additional minutes. Add olive oil to a deep bowl.
Place the dough ball into the bowl and turn it twice to coat it with the oil. Cover the bowl with plastic wrap and a kitchen towel. Let the dough rise for two hours.
Do not punch it down. Spread and push the dough ball across the bottom of the pan. At this stage the dough can be put in the refrigerator and allowed to rise slowly over night. Take the dough out of the refrigerator at least an hour before you are ready to use it.