Mast-O Khiar (Persian Yogurt and Cucumber Dip)
COOKGIRl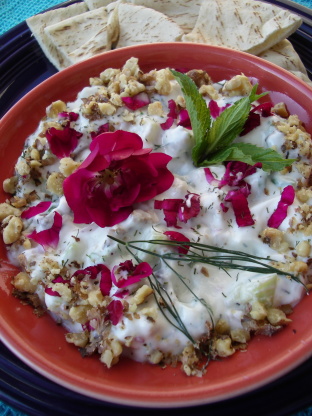 From our local newspaper. Low fat yogurt can be substituted for whole milk yogurt. (This recipe can be also transformed with a snap of your fingers into a soup by adding 1 cup of cold water or broth, to desired consistency. Serve with an ice cube to keep soup chilled.)

This was nice. I liked the green onion in this version. I did thin ours somewhat with water because I used Balkan (thick) yogurt and wanted this as a salad along with recipe#397386 on additionally made stuffing. I used Sun-maid Thompson raisins, no sour cream as we are corn free! I just added extra yogurt, I did not add any dill as a preference here, I may have used less garlic, and I used sea salt, freshly ground black pepper, and dried rose petals instead of fresh as it is what I had on hand, plus the rest of the ingredients except for the optional dried rose bud. If I make this again I'd like to use fresh rose petals. Made for VIP of Veggie Swap 33 ~ April 2011.
In a serving bowl combine the cucumber, raisins, yogurt, sour cream, scallions, mint, dill, garlic and walnuts.
Stir mixture thoroughly and season with salt and pepper to taste.
Cover and refrigerate dip for at least 1 hour before serving.
When ready to serve, garnish with the mint, rose petals and the rose bud, if using.
Serve with pita bread triangles, Arabic bread, crostini, etc.
Yield is estimated.