lazyme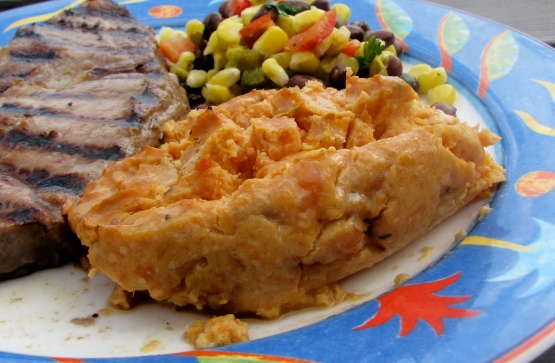 I love this! You can use sweet potatoes, but I prefer yams. No sugar or marshmallows in this. The sweetness comes from a banana. Great with ham or for Thanksgiving or anytime!

I really enjoyed this recipe when my MIL introduced it to me a few Thanksgiving seasons ago. I love the hint of banana in this dish. It adds the right amount of sweetness to the sweet potatoes (or yams). I will make it for Thanksgiving this year but with modifications since my daughter is allergic to dairy. I will use vegan butter (Earth Balance) and Toffuti sour cream.
Preheat oven to 350. Lightly spray a 2 quart casserole dish with nonstick cooking spray.
Boil yam chunks in salted water until tender (about 10-15 minutes, depending on the size of your chunks). Drain.
Place cooked, drained yam chunks in a large bowl. Add banana. Mash together with a potato masher.
Add 3 tbsp butter and the sour cream. Mash to combine well. Mash in the salt, cinnamon, ginger and nutmeg.
Place mashed mixture into prepared casserole dish. Evenly drizzle with the 1 tbsp melted butter.
Bake uncovered, at 350 for 20 minutes or until top just begins to slightly brown.