Mashed Potatoes With Variations
sloe cooker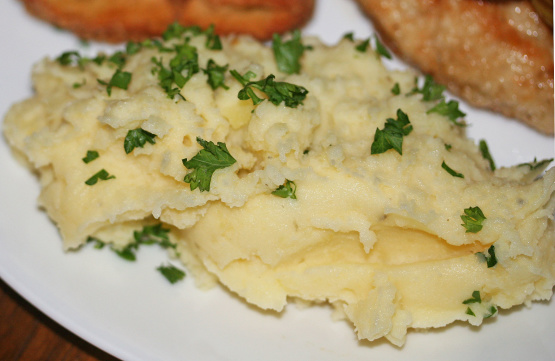 Simple mash with many variations to try

Top Review by Debbwl
Selected the Lemony Mash option and found it to have a bright lively flavor. Must say this is the first time I have ever made mashed potatoes using oil instead of butter. I did increase the lemon zest by 1 teaspoon as other reviewers had stated that the options were a little light on flavor. Thanks for the post.
In a large saucepan over high heat, combine potatoes and just enough water to cover them. ADD SALT; BRING TO A BOIL. Reduce heat to medium low; cook covered for 20-25 minutes or until potatoes are very tender. Drain well; return potatoes to saucepan. Place over low heat to dry out potatoes slightly shaking saucepan occasionally to prevent them from sticking.
Meanwhile, in a small microwaveable bowl, heat milk and butter or oil in microwave ob high for 1 – 2 minutes or until steaming. Add milk mixture to potatoes, mash roughly with a fork. With an electric mixer, beat potatoes until smooth and creamy (if you don't want chunky mash). Don't over beat, as potatoes will become gluey. Add pepper. If desired, season to taste with additional salt and pepper. Spoon into warm serving dish if used right away. Sprinkle with parsley.
To freeze: spoon into containers, label, seal and freeze.
VARIATIONS:.
Pesto potatoes: Omit butter or oil; add ¼ cup (50 ml) each pesto and freshly grated parmesan cheese before beating.
Mustard mash: Use butter instead o foil; add ¼ cup (50 ml) grainy Dijon mustard before beating.
Lemony mash: Use oil not butter; add ¼ cup (50 ml) chopped fresh parsley and 1 tbsp finely grated lemon zest before beating.
Cheese and onion mash: Use butter not oil; add 1 cup (250 ml) shredded cheddar cheese Swiss cheese and ¼ cup (50 ml) finely chopped green onions before beating.
Posh French mash: This is called aligot in French. Add 2 peeled cloves of garlic to potatoes before boiling. Drain well, returning garlic with potatoes. Mash as above, using butter not oil. Add 1 cup (250 ml) shredded Gruyere cheese before beating.
Caesar Potatoes: Omit butter and oil; add ½ cup (125 ml) thick Caesar dressing and ¼ cup (50 ml) freshly grated parmesan cheese before beating.