Mashed Potatoes with Toppers
lazyme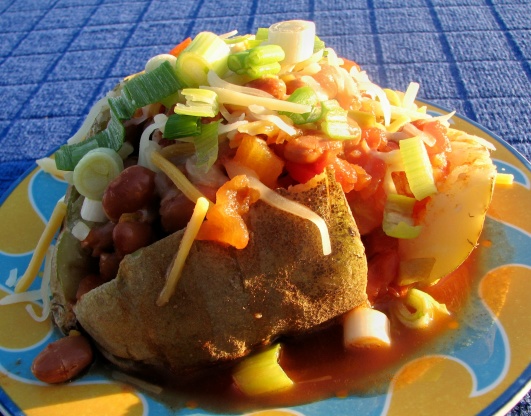 Quick to fix mashed potatoes with two toppers-Italian Pesto-Sour Cream and Mexican Chili-Cheese. Solve your what to make for dinner dilemma. These toppers can also be served on baked potatoes.

tried the italian-version, very quick and really great
Make desired topper first: Make mashed potatoes; Heat water, milk, butter and salt in a 3-quart saucepan; remove from heat.
Stir in potatoes just until moistened.
Let stand 30 seconds then whip with fork until desired consistency.
serve with topper.
Italian Pesto-Sour Cream Topper; mix sour cream, pesto and bell peppers; spoon onto potatoes.
Sprinkle with olives.
Mexican Chili-Cheese Topper; cook beans and tomatoes in a 1-quart saucepan over medium heat 8 to 10 minutes, stirring occasionally, until hot; spoon onto potatoes.
Sprinkle with Cheese and onions.