Mashed Potatoes With Roasted Garlic and Shallots
ImPat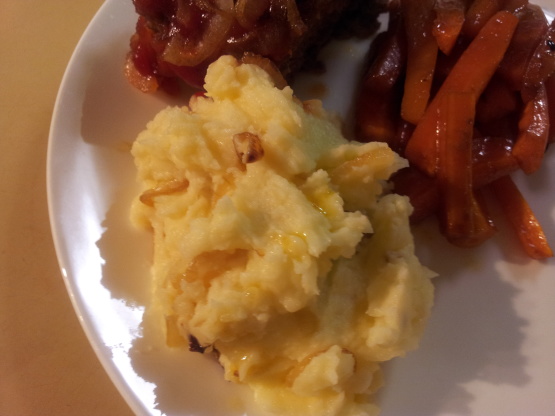 I don't think I've found a way to prepare potatoes that I don't like. They're all good. Mashed potatoes, in particular, just screams "comfort food" to me. When a holiday or special occasion comes around, I like to turn to this recipe just to dress things up a bit. Sounds a little fancier, but tastes delicious.

Top Review by ImPat
Absolutely delicious though we had a slight oops moment in that when I went to my onion bag I had no shallots and as I had to caramelise some onion for another recipe I just did some extra in the pan and for the garlic I had some roasted pulp in a jar in the fridge and used the last of it (about 2 teaspoons) which was just enough for the 2 serves that I made which was enough to feed 3 of us and did not overpower the potatoes or onion all came to together in harmony, thank you JackieOhNo!, made for Rookies tag game.
Heat oven to 350 degrees.
Rub shallots (in their skins) and whole garlic heads with oil; place on baking sheet. Bake 30 minutes. Remove shallots and continue to roast garlic until very soft, 20-25 minutes longer. Let cool. Squeeze garlic and shallots from skins and mince.
Meanwhile, boil potatoes in large pot of lightly salted water until tender, 15-20 minutes.
Drain potatoes well and return to pot. Add shallots and garlic, sour cream, butter, and salt and pepper to taste and mash with potato masher. Transfer to serving dish and serve hot.