Mashed Potatoes With Roasted Garlic and Herbs
Rita1652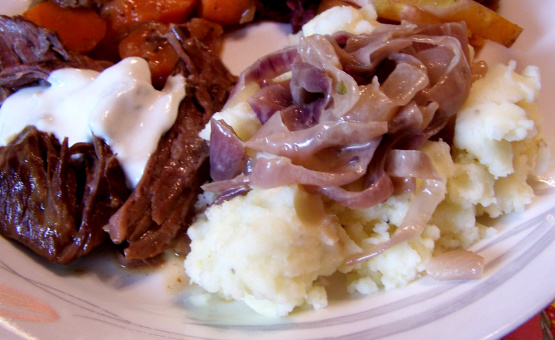 Potatoes are comfort food But when you add Lavender to it and you have real comfort food! Lavender and rosemary are a match made in heaven. Use together or alone. Your choice. You can throw fresh garlic into the potatoes when boiling in place of roasting them for ease. Almost as good as roasted garlic. To bring it over the top try it topped with Luscious Creamy Glazed Onions.

Wonderful mashed potatoes! So easy and creamy and delicious. I only used the rosemary because I don't have a fresh lavender plant and I can't find it in the spices at the grocery store any more! I am going to use my leftovers to make gnocchi, hopefully it will be just as delicious. Thank you!
Cover and cook potatoes in boiling salted water for 15 to 20 minutes, until potatoes are fork tender.
Drain potatoes.
Mash potatoes in a large mixing bowl until no lumps remain.
Add butter and cream, salt, and pepper mashing in to blend together.
Mix in herbs and garlic.
Garnish with herbs.