Mashed Potatoes With Roasted Garlic and Caramelized Onions
Rita1652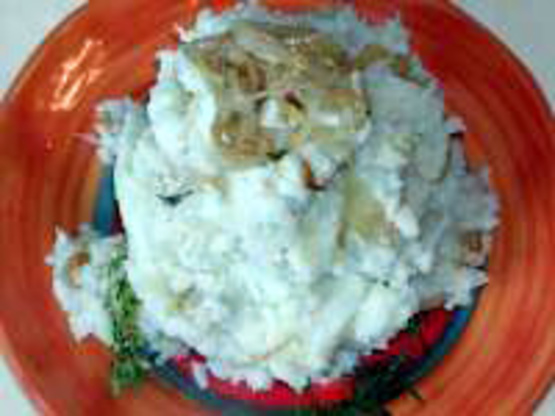 You put onions, garlic and potatoes together and how can you go wrong? The caramelized onions and garlic are so sweet and buttery goes great with the potatoes.

Went to recipe 51649 for the roasted garlic cloves, but it took me to a recipe on how to make caramelized onions. So I did that. Glad I did, because it really made the difference with this. I had to use up some potatoes that were getting old (about 8 potatoes, of various sizes). I used 3/4 cup whole milk, then added 1 cup fat free milk after I had stirred and realized the potatoes were still too thick. It came out perfectly. I added approximately 5 tablespoons of the caramelized onions and used a hand blender to mix it all in. Didn't do roasted garlic cloves, so just added about a tablespoon of garlic powder. Tastes great - thanks!
Cover and cook potatoes in boiling salted water for 15 to 20 minutes, until potatoes are fork tender.
Drain potatoes.
Mash potatoes in a large mixing bowl until no lumps remain. Better yet rice them.
Add butter and milk, salt, and pepper mashing in to blend together.
Mix in onions and garlic.
Garnish with onions.