Mashed Potatoes With Prosciutto and Parmesan Cheese
JustJanS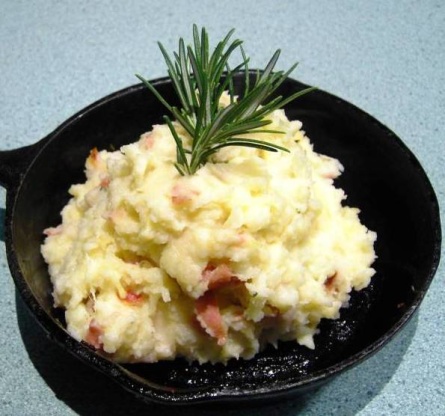 These are some awesome spuds. Got the recipe from "Epicourious.com." These are so addicting! I could make a meal of this alone!

Yooper, you said it all, these spuds truly are awesome, addictive and could be a meal on their own. We ate them tonight, and didn't alter a thing in the recipe. I'm seeking out great potato recipes, and these are way up at the top of my list. Thanks.
Cook potatoes and garlic in a large pot filled with boiling, salted water until potatoes are very tender, about 15 minutes.
Drain, return potatoes and garlic to the same pot.
Meanwhile, heat 1/2 cup butter in heavy small saucepan over medium heat.
Add chopped prosciutto and 3/4 teaspoon minced rosemary.
Sauté until fragrant, about 2 minutes.
Add prosciutto mixture and 3/4 cup milk to potatoes and garlic.
Mash well, adding more milk by tablespoonfuls if potatoes are too dry.
Mix in 3/4 cup parmesan cheese.
Season with salt and pepper.
Transfer to a large serving bowl.
Sprinkle with remaining 1/4 cup parmesan cheese.
Garnish with additional fresh rosemary, if desired.