Mashed Potatoes With Pesto
lets.eat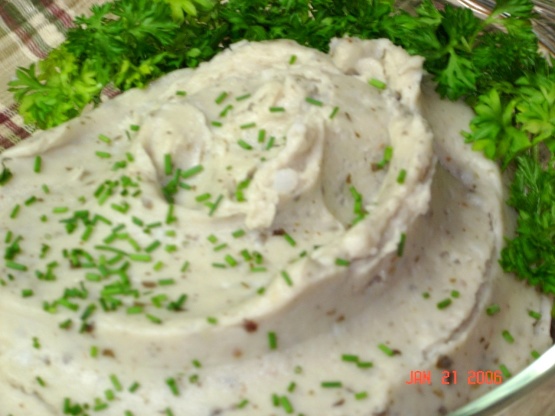 We liked this, the pesto gives this an 'earthy' taste to it. Recipe hails from Kitchen Miracles. The flavor is very nice, but be warned the coloring has much to be desired. The pesto gives this a 'grayish' color.
Place the potatoes in a large saucepan, add enough cold water to cover the potatoes and cover the pot. Heat on high, bring the water to a boil. Reduce heat to medium and simmer until potatoes can be easily pierced with a knife, about 20 minutes. While the potatoes are cooking, combine the cream, butter and basil in a small saucepan and heat over medium heat until the butter is melted and the cream is hot.
Drain the potatoes and allow them to sit in the colander for a couple of minutes. Place the potatoes in a mixing bowl and mash. Stir in the cream mixture by thirds. Season with salt and pepper to taste.