Mashed Potatoes with Garlic, Basil and Chives
Az B8990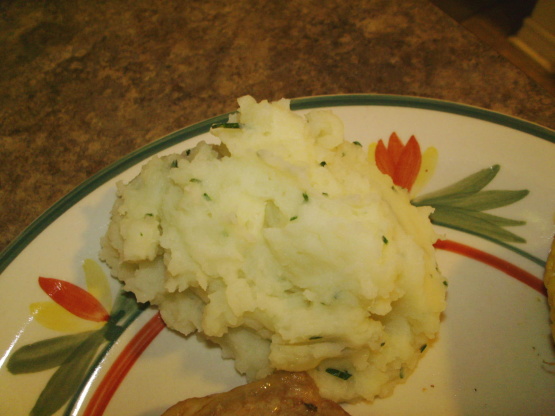 I found this gem in a cookbook called Festive Recipes for the Holidays. Gave it some personal tweaks. Like more garlic. Can one have too much garlic? I don't think so! (Unless you're a vampire!)

My fussy son actually chose this for dinner last night and was very pleased with himself! It's a lovely mashed spud recipe, the basil is so good, and it's garlicky, but subtley garlicky!
Peel potatoes and chop into 2-inch pieces.
Peel garlic cloves, and halve them if they are very large.
Fill a large pot 3/4 full with water, salt lightly and bring to a boil.
Add potatoes and garlic to the water and cook, until potatoes are fork-tender, about 20-25 minutes, then drain.
Place potatoes in a bowl, and add butter.
Mash potatoes and garlic, and add basil, chives, and enough milk to achieve a creamy but not runny texture.
Season the potatoes with salt and pepper.
Serve.