Mashed Potatoes With Garlic and Horseradish
lazyme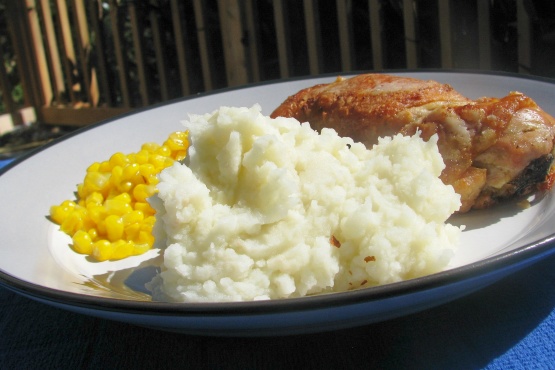 Onion, red pepper flakes and 6 cloves of garlic make these a bit different than all the other garlic mashed potato recipes I've seen. From a Meijer's recipe card.
Place potatoes, garlic and onion in a large saucepan of lightly salted boililng water. Cover and cook for 20-25 minutes or until tender. Drain.
Return potatoes and garlic to pan, heat slightly to remove excess moisture. Mash potatoes in pan, add red pepper flakes, butter, horseradish and chives. Gradually stir in enough milk to make potatoes fluffy. Season to taste with salt and pepper.
To make ahead: Make potatoes as directed. Transfer to a 1 1/2 to 2 qt casserole dish coated with non-stick cooking spray. Cover and refrigerate for 2 to 24 hours. Bake covered for 30 minutes at 350 degrees. Uncover and bake for 40 minutes more or until heated through.