Mashed Potatoes With Cream Cheese
Parsley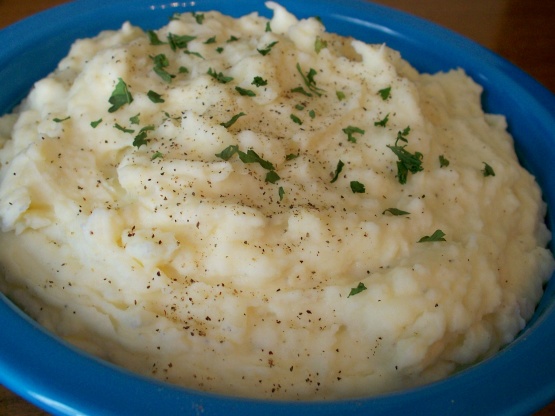 I was surprised I couldn't find this recipe here. It is the only mashed potato recipe I use for the holidays,as it is even better made a day ahead. Not only is it delicious, but it's one less pot to wash when you want to enjoy your company. This also makes a nice potluck dish.

These were great - and with no butter too! I've been searching for a go-to mashed potato recipe and I think I just found it :) Also, I found it doesn't need to be baked, it tastes great without the last step.
Peel and cut the potatoes into large cubes and boil in salted water until tender.
Meanwhile, beat the cream cheese, then stir in the sour cream, milk and spices.
Drain and mash the potatoes in the pot, then stir in the cream cheese mixture.
Spoon into a casserole dish or a 9x13 pan.
You may cover it and refrigerate for 24 hours, or proceed to baking right away.
Bake covered with foil at 350 for 45 min's.
Increase the time if the dish has been chilled.