Mashed Potatoes With Corn and Chives
Nif_H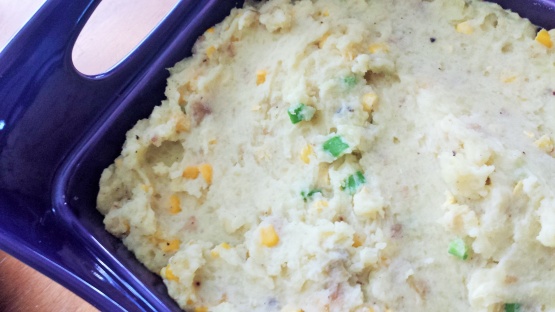 this total comfort food is perfect for the holidays, from the NY Times

I never used garlic or chives in a mashed potato recipe, but in this one, it worked. And the buttermilk made it especially smooth and creamy. I made this twice, and it was a big hit, with my family, both times.
Place potatoes and garlic in pot, cover with water and boil until potatoes are tender, about 10 minutes.
Remove with slotted spoon and place in large bowl; add corn to boiling water and cook 2 minutes. Drain.
Mash potatoes and garlic or put through a food mill. (A food mill will leave behind much of the skin.)
Stir corn into mashed potatoes with enough buttermilk to make a medium-firm texture.
Season with salt and pepper and stir in chives.
To keep for up to one day, refrigerate, covered.
To serve, place in glass dish, cover with plastic wrap and put in a microwave oven for about 8 minutes on high, stirring once or twice while reheating. If potatoes become too dry, stir in a little buttermilk.