Mashed Potatoes With Celery Root
Bergy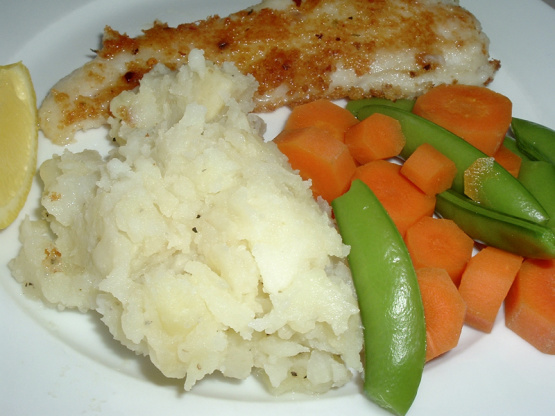 I first had these potatoes at a restaurant and they "knocked my socks off." Celeriac (or celery root) is a ugly root, that when baked up becomes quite creamy. The flavor is similar to celery stalk with a sweet undercurrent. This version is from Andrew Schloss's, author of "Dinner's Ready" clipped from the Washington Post 1996.

It was good! It tasted exactly like I thought it would taste. I added just a touch of carmelized onion.
907.18

g russet potatoes, peeled and quartered

453.59

g celery root, peeled and cut in chunks
salt and pepper

78.07

ml light cream
Place the potatoes and celery root in a large heavy saucepan.
(I start the celery root first, since I find it takes longer to cook. It must be soft to mash up creamy).
Cover with water and season liberally with salt and pepper.
Cover and cook over medium-high heat until water boils.
Reduce the heat to medium and continue to boil until the vegetables are tender, about 20 minutes.
Drain, and mash the vegetables with a potato masher or a large fork.
Mix in cream.
Adjust seasoning with additional salt and pepper.