Mashed Potatoes With Carrots
Prep 20 mins
Cook 30 mins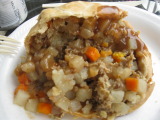 This was started by my mom and was a main holiday staple in our household for MANY YEARS, but it is SO good, we have it quite often! People raise an eyebrow when we tell them about it, but after they taste it, they're HOOKED!!! You can adjust the amount to your needs. Just ENJOY!!!
Directions
Wash and lightly scrub potatoes, cutting away any bad spots, but do NOT peel. Leave whole.
Wash and lightly scrub carrots, removing ends, but do NOT peel. Cut in half or quarters.
Place potatoes and carrots in large deep pan and add enough COLD water to cover about an inch above. Add 1-2 teaspoons salt to water, if desired.
Bring to a boil over high heat. When water comes to a boil, reduce heat, cover and cook until tender.
When done, quickly and carefully, drain off all the water into colander.
Return potatoes and carrots to pan ASAP!
Immediately add the butter and seasonings; cover until butter is melted.
Add the buttermilk a little at a time while mashing until desired consistency.
Serve hot.
Most Helpful
Not rating it as have not tried this particular recipe. We started mashing carrots with potatoes when the kids were small. It was the only way we could get them to eat carrots! I actually whipped them rather than just mashing them after adding butter and milk, so there were no bits. Of course the potatoes had a light orange tint. Tried it with peas too; that one was a disaster! Thanks for posting. Toni

These are really good and I love the fact that you get two sides in one! I made exactly as directed and they came out great! The buttermilk was a nice touch rather than plain milk. I had 1 medium potato and three pretty large ones so I used four carrots. Best part is both my boys ate it (and 4yr DS doesn't like potatoes!!) Will be making often! Made for TOTH Veggie Tag 4/2010.