Mashed Potato Pancakes Southern Style
arlenya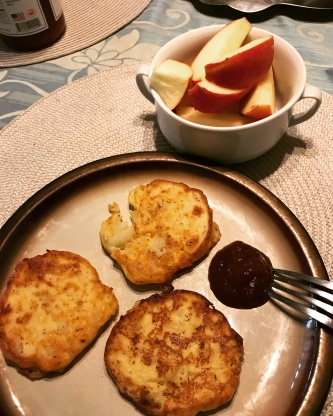 On a rare occasion we have leftover mashed potatoes. Using Mashed Potatoes (the BEST), I added a modern twist to my mom's old Southern recipe. Increase or decrease onion, garlic, hot sauce, and S&P as to your preference. Crispy on the outside, soft on the inside. Bet you can't eat just one!

Top Review by megs_
Yum! I hardly ever have mashed potatoes in my house, but we had some leftovers today so I decided to make this recipe. Let's just say I am stuffed.... I enjoyed these a little too much, lol. :) I cut the recipe in half and it worked well, was hard to flip for me too like another reviewer said, and got a little messy, but it tasted so good I didn't care. Thanks so much for sharing!
In medium bowl combine all ingredients.
Whisk together until combined well.
Consistency should be similar to cornbread mixture.
Heat skillet with a light layer of oil on medium-high heat.
(Cast iron skillet browns beautifully).
Spoon batter to form 3 1/2 to 4 inch rounds.
Brown each side to a rich dark golden brown.
Potato Pancakes should look like a thick regular pancake.
Place on paper towel to drain excess oil.
Don't stack on top of each other or the bottom pancakes will become soggy.