Ozzy5223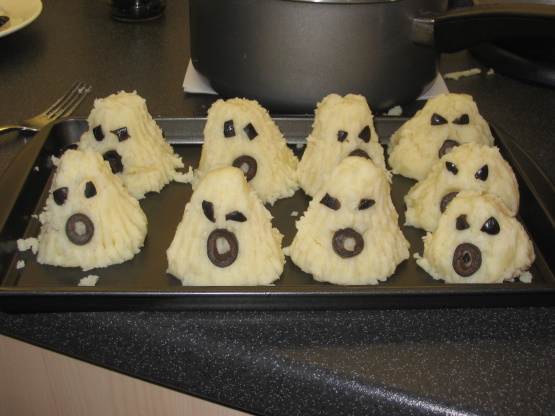 Just a little something different to do with your mash! Makes for a talking point and the kids will love it! I did these the other day for a Halloween dinner and called them Ghostly Mashed Potato, whatever you call it--it makes a change from regular mashed potato.
Peel and quarter the potatoes and put in a large saucepan and cover with water.
Bring to the boil then cook with lid on for 35-40 minutes or until soft.
Preheat the oven to 200 degrees.
Mash the potato adding a large knob of butter and a splash of milk while mashing.
Mix in the grated cheese then leave to cool for a couple of minutes.
On a non stick baking tray form the mashed potato into mounds then fashion with a fork to the desired effect (see photo for guideline).
Slice the olives width ways for the mouths then cut small pieces for the eyes.
Place the baking tray into the oven for 5-10 minutes to crisp up a little then serve them as they are or on top of any additional mash left over.